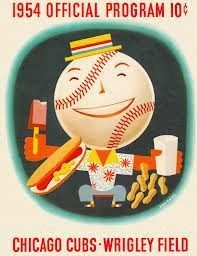 Don Robertson missed
out appearing in any
card sets. Trying to
any hopeful facts about
the 7th place Cubs, I
discovered Al Yellon's
fun slugfest recap. Yea
for Bleed Cubbie Blue!
Rich Hanson is a collector role model for me. He seeks out baseball history in all shapes and sizes.
He got Don Robertson, a cup-of-coffee outfielder with the 1954 Chicago Cubs, to sign an index card this month. However, it wasn't the typical autograph.
Rich added:
"This one was a sad response. A note from his wife accompanied it saying 'This is my husband's last autograph. He is 83 years old, has lung cancer and is in hospice now.'"
The 24-year-old was hitless in six plate appearances. His final kindness to one more collector counts as a game-winner in my eyes.
Please, subtract Mr. Robertson from your address list. Thank you for the update, Rich.