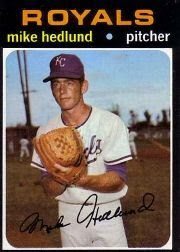 An all-star patriot
from 1971
His 1972 Topps card doesn't mention it. Oh, the seven complete games and one shutout from 1971 get a sentence, as well as being a 1963 Connie Mack All-Star.
However, I feel that Mike Hedlund's greatest outing that year came off the field.
I wrote, and he responded with an epic memory:
"In 1971, the USO had tours to Vietnam with pro athletes. This tour had me, Bobby Bonds (Giants), Doc Ellis (Pirates), Mike Kilkenny (Tigers), Nick Colosi (National League umpire) and Jim Enright (Chicago Sun-Times reporter). We spent 2 weeks visiting mostly fire support bases in Vietnam.
It was quite an experience and I'm honored to have been able to do that. Our tour was to visit, talk and basically do whatever we could for those guys and morale.
Most of the soldiers we met were very secluded and sometimes we really had to work to get them to interact with us. It made me really appreciate the country and freedom we have in our country, thanks to the sacrifice our military men and women have made."
Mike Hedlund is a joy to salute, too. He's remained devoted to the fans and collectors, more than four decades after his last major league game.
I shared a story with Mike in my letter, too. I said goodbye to a cousin named Dustin Yancey this month in 2005, killed by a roadside bomb in Iraq.
Not just on Veterans Day, I'm grateful to all the Dustins, and all the Mikes.