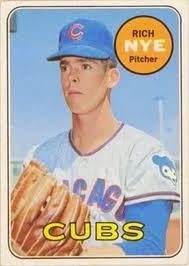 Why did Topps
recycle its 1968 shot
of Nye? Like he
couldn't be bothered
to pose?
I'm gearing up for an off-season of letters. Along with names on my wish list, I'm wanting to ask questions that haven't been done to death.
Here's one sparked by my 2011 response from Rich Nye.
In the pre-cable days, NBC's Game of the Week mattered.
I'm wanting to know:
Stats don't show which hits or strikeouts came when being nationally-televised. Did one person have one great moment shared with America?
Be my guest. Ask away. Let me know what you learn in your responses.
Good luck (to us all)!