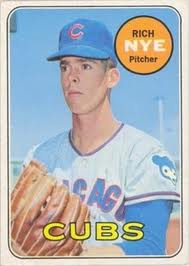 "I truly loved playing
the game."
Sometimes, a win is more than just the "W" in the box score or a bump in the standings. Sometimes, the victory comes in sharing with your family, Rich Nye reminded.
"You mentioned the "Game of the Week." I remember it well. It was the first time my parents (on the West Coast) had a chance to see me pitch in the majors. It was against Cincinnati and I pitched into the 8th inning and got the victory. I didn't get nationally interviewed but I was quite pleased with the performance."
I was surprised to see, when I printed a piece of stationery for Nye,
that he amended my notation of "9/9/67 – Struck Out 10 Giants in Complete Game Win." Nye added:
"and accounted for the winning run."
Seeing that Nye was born across the bay in Oakland, and that he sparkled in Candlestick Park, it's easy to imagine him tipping his cap to friends and family.
(Hurray for http://www.retrosheet.org/, offering details!)
Nye's early success was shared with receiver Randy Hundley. The pitcher painted a full portrait of the catcher.

"Randy Hundley was the only catcher at the time who caught with one hand and he had a shotgun for an arm. He instilled confidence in the young pitching staff and was our team leader.

Randy had a habit of getting in a 'rut' (some call it a rhythm) and occasionally appeared to be thinking about his last at-bat rather than the 2-2 pitch he was suggesting to Aaron or Mays."
Nye's career was curtailed by a rotator cuff injury in 1970. His time on the mound was more than a job, it seems:

"My life in baseball was too short to be sure. I truly loved playing the game. As I got older, I started playing Men's Senior Baseball and continued that until I was about 53 years old. My team won two 'World Series' during those years. I finally had to stop because the joints no longer wanted to comply with my wishes — they hurt too much.

Tom – thanks for asking. It's always fun reminiscing.

Rich Nye"
Tomorrow: Hall of Fame announcer Dave Van Horne traces the origin of his trademark call!