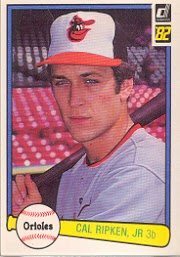 The first Iron Baby?
I delight in the comments section. However, I worry that readers might miss some of the all-star anecdotes arriving later.
As they say on TV, this just in…
A standing O goes to my friends at Carl Crawford Cards, who responded to my earlier assessment of the MLB Player Poll of "strangest item ever autographed." Check this out:
"Straight up: at spring training this year Cal Ripken signed a baby onesie for my wife and I. We'd brought it as a lark for players to sign, looking to frame it later, but decided that with Cal it was quits after that.
Then my daughter was born 6 weeks early and spent 3 weeks in intensive care. Today she's home and doing great at just under 4 months. She's now unofficially the "Iron Baby," and has an "Iron Man" signed-onesie to prove it."
The moral? Find meaning in every autograph. Make the hobby your own.
Memorabilia is nothing without the MEMORY. I love this tale. Thanks for sharing. Happy Thanksgiving to the three of you.