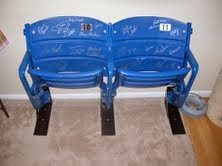 Go, Greg!
Sure, the "whatever happened to…" questions about baseball players are fun.
I'm just as curious about autograph collectors and researchers I've found corresponding with baseball's past. Here's a couple of "since you last tuned in" updates.
Phillies fan Greg Kersey mentioned: "The Vet seats are up to a total of about 50 signatures and I am running out of room very quickly. I may have to buy another pair of seats and keep going."
I like Daniel Solzman's game plan. He likes the Cardinals. Plus, he likes to write. I see some great themes in his hobby goals.
"I already have La Russa, Torre, and Cox on cards but would like to get them on 8x10s. From SCN, I can see that TLR is a better signer than Joe or Bobby are. For those 8x10s, I may have to wait for signing weekend.
I have Garagiola on a card. I'll be sending an 8×10 to Garagiola to sign with the HOF inscription for Frick and a new one for the Buck O'Neill Award.
As for Angell and Nadel, I'm going to order 8x10s here shortly and get those sent off for signatures. I found Nadel's Dallas address on SCN so that might be quicker than waiting til ST.
As for the rest of the class? It's going to be expensive. I need to see when the limited edition HOF collages get put out by PhotoFile. Ideally, I would like them in time to mail in for the HOF signings. If I have to wait for Sun-Times show, etc–so be it!"
Dan Brunetti had this update:
I just got my 198th autograph from the 1979 Topps set last week when Horace Speed arrived in the mailbox. I have dropped back to 10 cards per month. I seem to be running out of cards and addresses at about the same rate. I'll drop a note when #200 comes in.
I stepped outside the set last month when I found a 1965 Topps Jim Bunning at the card shop for only $3. I couldn't resist getting a HOF player and a former US Senator.
I found the 1977 OPC autograph project on blogspot. It looks like it is run by Tony, but I couldn't find an email address for him. I noticed your picture on his page and wondered if you had contact info for him. I think that he may also be the infamous TonyT on the SCF site.
The gingerbread stamps are going on all of my December sendouts. I'll let you know how they work out for me."
I loved what
Kenneth Nichols
had to say about Jason Grilli in his fun blog. I'll be a regular reader of his in 2014.
Thanks for your readership this year, friends. Share your hobby. It's the best way to keep in shape until spring training!