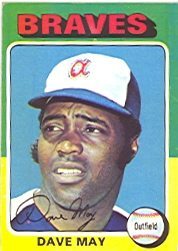 The facsimile autograph
might be all you ever see!

Dave May, the player traded to Atlanta for Hank Aaron, has died at age 68.
Son Derrick May shared the news on Facebook. With the obituary, fans learn that the elder May had been suffering from cancer and diabetes. It seems diabetes was responsible for May losing a leg.
Dave May was far from the greatest signer in autograph history. According to www.sportscollectors.net, just six of 20 TTM attempts recorded since 2001 were successful. Most of those happened when fees were enclosed.
Collectors forget that age and illness can stop or hinder even the best autograph signers. May's son shared that his dad had a 40-year friendship with Johnny Briggs. Look up Briggs and you'll see that he has a hard-line autograph policy. Your cards are impounded, and a price list is returned. Some collectors have called it a ransom note. When one retiree has luck with such high-pressure moneymaking tactics, it's a wonder that the stunt doesn't spread to more retired teammates and other baseball friends. I'd call this the "Eddie Haskell" effect.
I never tried May. If I had one more chance today, I think I'd write him about Derrick. I think some former players tire of hearing their stats recited. Who ever tires of being a proud dad?
Coming Friday: Do envelopes make a difference?