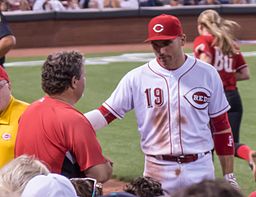 For the Cincinnati Reds, an autographed baseball is the equivalent to the "get out of jail free" card in MONOPOLY.
Joey Votto's anger over a fan who outdueled him for a foul ball was rectified by a post-incident autographed baseball. 
Brandon Phillips used signed-ball diplomacy previously. 
Votto has used autographs to make a statement before, explaining why he wouldn't sign for Cubs fans.
The inspiring website www.sportscollectors.net notes that collectors through the mail have gotten 365 responses (69 percent success rate overall). However, the last recorded response came in June, 2015.
I predict this won't be the last time the Cincy slugger depends on autographs to gain center stage.