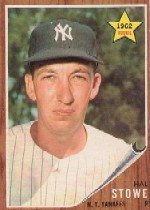 I imagined Topps having
the scenic background
posters, like the
discount photographers use!
"It's not you, it's me…"
How many times have you heard that on a TV show or movie? I'm surprised more autograph collectors don't hear that from more retired players.
Pitcher Hal Stowe was a kid when his life changed. Ask anyone who says they were perfect and mature at age 23, making all the right decisions, and I'll bet that puppet's wooden nose might be growing.
Stowe began his pro career in 1959. In 1960, after reeling off a dozen straight wins, he got his promotion to the bigs. Stowe shut down the Red Sox in one September relief outing. In 1961, after an impressive spring training, legend has it that a dispute developed between the pitcher and manager Ralph Houk. Banished to the bench for an entire season, Stowe's demotion to AAA proved to be a career ender.
Stowe penned on my letter

"To Tom, My Best to you and God bless

Hal Stowe, Yankees '60"
However, his answers were terse:
I asked if he saw the Red Sox as just another foe or a special rival before his debut.
"Yes"
(Indicating that the opponents were just that.)
Being with the legendary Yankee personalities, I wondered if he'd have roommate tales. Who were his roomies, and what adventures did they have?
"Robin Roberts, Phil Linz, Clete Boyer"
Phil Linz?!? Did Stowe like harmonica music better than Yogi Berra would?
Lastly, I hoped to get a comment about the 1962 Topps cards. Check out the background. I guessed it was a minor league setting or spring training. Trees like that growing in Yankee Stadium?!? Most of all, I asked Stowe how he felt (or feels today) seeing that card.
Stowe answered with two question marks. Nothing more.
The lesson I take from Stowe's response? Even 50 years later, disappointment may not disappear. If you don't get a response from your letter, if a question is ignored or a card isn't autographed, don't take it personally. We'll never truly know how it felt then to be a major leaguer…or how it feels today.
(Kudos to Historic Baseball for pointing out Stowe's enduring fame at Clemson University, where he pitched stellar college ball.)
Tomorrow: Run, Jim Kaat! Max Alvis is coming!!!