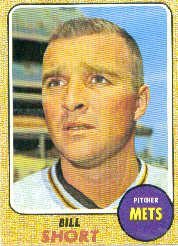 I have a soft spot in
my heart for the
players Topps "decapped."
Does Short look happy
with his "traded" pose?
I don't know if any of these players were outgoing during their careers. Letters to each were "out going" this week:
Bill Almon
Cuno Barragan
John Hetki
Ted Kasanski
Buddy Lively
Hector Lopez
Rance Mulliniks
Curt Raydon
Bill Short
Ed Wojna
Why these 10? I was trolling the "recent responses" from http://www.sportscollectors.net/. It's the best bargain in the hobby, I must repeat. They've signed for others, and they've signed fast. I wanted to float some questions the way of 10 receptive retirees. Stay tuned…
Meanwhile, I'd appreciate any reader feedback as to what I may (or may not) have to look forward to in my mailbox from these guys.
WEEKEND UPDATE: Here's a P.S. from Dan Cote, creator of the autograph blog "Signed D.C." The new dad/Twins fan snared a signed Michael Cuddyer photo for his newborn daughter, after the two watched their first Twins game together on TV. Dan's update includes:
"I did tell the whole story and even asked for a personalization to her if at all possible.


For all I know, it's possible he didn't even read the letter, just signed the photo. But he did retweet my twitter thank you to him this morning and added the comment "Cool story. You're welcome!" so at least he's read the story now."
Dan's actions help all of us. Any time a major leaguer can be convinced that an autograph is a personal gift (not just an item to be resold), we all win!
Tomorrow: the mystery of 1960 Yankee pitcher Hal Stowe