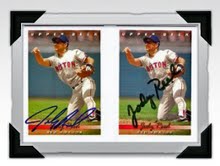 Super collector Stu "Stu-Man"
Clark pointed out on his
website that the newest
TTM card of Reed (right)
is nothing like the
player's vintage autograph
My hobby heroes are collectors who'll share what they know with others. Not just bragging about their best signatures, but news about their disappointments.
Stu "Stu-Man" Clark has been doing just that for more than 15 years online. He does all that and serves as a second grade teacher in western Massachusetts? That's one all-star life. He even
made time to share his hobby insights with BBTL blog readers:
You blew the lid off the Jody Reed ghost-signings. You're saving others wasted time, stamps
and ruined cards. Is this the first "ghost" you've busted? Any update on your discovery?
Every now and then you get a success that clearly does not match the player's signature. I remember getting Sam Horn (former Red Sox) a few years back, and the signature was not even close to legit. As luck would have it, I tried him a few weeks later at a new address and got something legitimate.
I saw your website eons ago. You did a good job. When did you start that?
Then, I see you have a new site? Why? Differences between old and new?
I started the original website nearly 15 years ago. It was a great way to network with fellow collectors and share information. Recently, I switched over from the original site (http://www.stu-man.com/) to my new site (http://www.stumanautographs.com/) with a new design. The biggest reason for the switch? An easier interface which makes updates smoother and less time consuming. I've probably cut my update time in half since the switchover…
How does the Facebook page differ from your website? What types of collectors
do you collect with on each site?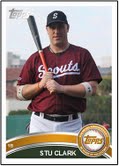 The Facebook page is an extension of my site. It's much more interactive. Collectors can ask me questions or comment on my successes. Many of the collectors that follow me on FB are also loyal followers of the website.
How long have you collected by mail? Do you remember your first autograph?
How has your collecting technique changed?
I've been collecting since my sophomore year in high school (1990). My first return was Todd Benzinger of the Boston Red Sox. Shortly after, I was hooked. My collecting technique hasn't changed all that much over the years. Each year I buy 2-3 sets, and break them up for autographs. Although I aggressively collect 2 sets (1990 Upper Deck and 2001 UD Vintage) I'm working on 10-12 starter sets for which I've collected 100-200 cards each.
How do you make your homemade cards? How are you finding images?
Are you doing only current players, or retirees, too?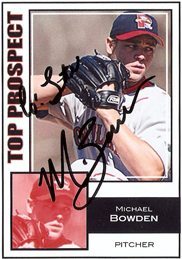 (Design by Stu Clark)
Making homemade cards is a great way to personalize your collection, especially for players who have limited cards. Using basic photo editing software, I create a design and customize it with team colors. I find the majority of the images on MLB.com under the player section. My homemade cards have mostly focused on current players at this point.
What's been the best response from a signer regarding the homemades?
Are you providing extras, or waiting to be asked? Idea of how many "I'd like
extras" you've heard?
I've had several players write me notes asking for extras. Justin Speier of the Angels kept my cards but returned a note that said, "These are too cool to return." So I made up a few more and he gladly signed a couple for me. Ryan Spilborgh's dad sent me a note asking explaining that he handles his son's fan mail and also collects his son's cards. He asked if I could send him some duplicates.
Do you ask questions with your letters? Have you received any kind of
extra note, maybe telling about a card or photo?
In the past, I've sent index cards with the question, "What is your best baseball memory?" typed on it. I've received quite a few of those back and have made up a little album. Those are some of my favorite responses. Many players wrote about their first game in the big leagues. their performance in a big playoff game, or a memorable day in their career.
What are your collecting goals?
Aside from completing the two signed sets I am working on, I don't have any real goals. I tend to focus my collection on players from my favorite teams, namely the Boston Red Sox, New England Patriots, and Hartford Whalers.
Thanks, Stu, for all you do for the hobby. I hope all second graders find teachers as cool as you!
Sunday: I reveal my game plan, naming the next 10 letters I've sent.