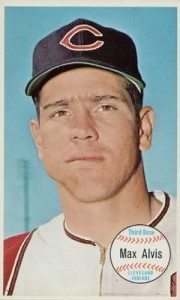 As a kid, I thought the
Topps "Giants" set only
had the tallest players.
Alvis looks like he's
ready to swallow
a whole baseball!
Pssst…don't tell Cooperstown.
Voters have toyed with the idea of Jim Kaat gaining Hall of Fame membership. He's worthy on many counts. However, he might want to leave his encounters with Max Alvis off the application.
Thanks to http://www.retrosheet.org/, I relived some of those 1960s match-ups. Of those 31 hits against the lefty, Alvis pounded half those for extra bases. I'm guessing that most of those nine walks were no accident, either.
The most remarkable part of chasing Mister Kaat? It was news to Alvis. He wrote:
"Jim Kaat was one of the greatest pitchers that I ever played against. Not only could he pitch, but he could hit and was the best fielding pitching I ever saw. It is a surprise to learn that I was that successful against him.

I must have been real lucky."
Alvis is one of the decade's top "what if" hitters. How many extra homers would he own hitting in a cozy ballpark, instead of Cleveland's canyon-like Municipal Stadium?
"Cleveland Municipal Stadium was a big stadium. Probably because it was home to the Cleveland Browns, also. The park was not real Home Run friendly, but the great pitchers of the Indians probably appreciated that fact. We always had good center fielders who could roam that big space and protect the pitchers."
Don't miss "Max-imum Overdrive," a fine tribute to the slugger written by Todd Newville.
Tomorrow: Alvis reflects on his Cleveland departure and overall career.