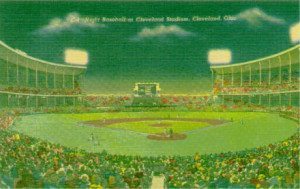 Jake Striker was meant to pitch in the major leagues.
Either the majors, or starring in a Zane Grey western. Gotta love the name!
Striker the minor leaguer remembers the news of the promotion. The opportunity allowed him to chase just one modest dream. He wrote:
"I was playing in San Diego and was told by my manager that I was being called up to Cleveland when our season ended. I cannot say I was overly surprised, as I had a very good 1958 and a decent year in '59. Still, it was a great feeling to be called up, hoping that I would have the opportunity to pitch in Cleveland Municipal Stadium.

That was my childhood dream, to pitch in Cleveland, as I only lived 90 miles southwest of Cleveland."

It happened. At home, at THE PLACE, in front of family members who could share the dream: Striker's first (and only) victory in the bigs.
These days, umpires call time and fetch the historic baseball from a player's "first" anything. A coach can be seen in the dugout inscribing the ball with the feat. Instant souvenir! No such luck for Striker, who wrote:
"No, I did not get the game-winning ball. If I had gone the complete game, I am sure I would have had the ball. I do have a team-signed ball from the 1959 team.

I celebrated my win with my wife and parents and two brothers."
Tomorrow: Baseball's trading deadline just passed. Striker shares what it feels like to be shipped off as part of a blockbuster deal
(Every day, discovering baseball's buried treasures, I'm astounded at http://www.retrosheet.org/. Thanks, guys!)