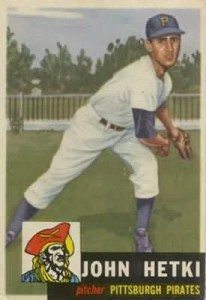 Pic from Havana, Cuba?!?
Topps told me!
I saw that Pirates pitcher John Hetki was photographed in a batting helmet on his 1954 Topps card. Looking at his stats, I saw he had 11 hits in one season — including two triples in one week of 1953. Don't DH this guy. He responded:
"I had to work hard during the winter months. I worked also in making my arms and legs strong."
On April 27, 1947, then-Cincinnati moundsman Hetki hurled a 12-inning victory against the Pirates. Two memories top that day:
"Shutting out Hank Greenberg and Ralph Kiner without a hit."
We may never know the full story of all the 1953 Topps paintings. Photos were adapted. Some freelance artists would recreate every detail. Others would enhance.
Well, Hetki's 1953 forested background suggests that he might have gone camping in uniform. Was there such lush shade at Forbes Field, or was this spring training? Hetki's guess?
"The picture might have been taken in Havana, Cuba."
Hetki summed up his letter by listing his career ironies.
"At the end of the 1949 season in Syracuse, I pitched 4 games with two days rest. I lost all four games, being shut out, 1-0, 2-0 and 2-1. I lost the last game, 8-0. Six of the runs were unearned. I never got the chance to be a regular starter in the majors. I also threw a lot of batting practice without the screen."
Tomorrow: Harvey Meiselman offers major deal for "minor" names.