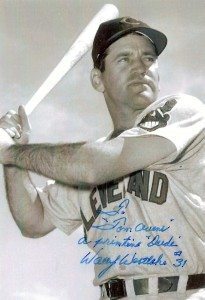 Wally Westlake's major league career stretched from 1947 to 1956. The 1951 All-Star pounded 127 career home runs. Beginning with some dismal Pirates teams, Westlake endured a six-year stretch with six different clubs. Obviously, he did it with a sense of humor.
As a rookie, Westlake encountered future Hall of Famer Hank Greenberg in Pittsburgh at the end of his career. When Greenberg moved to the front office in Cleveland, he invested in Westlake's potential. In Westlake's note, he referred to Greenberg as "Big Hank, a great hitter, a fine person."
Dealing with general manager Branch Rickey in Pittsburgh, Westlake summarized: "Rickey = tight with the money. It was all business."
Rickey may have lobbied for Westlake to audition at third base in 1951 to increase his trade value. Westlake endured 12 errors in 34 games.
"I played third base briefly," Westlake wrote. "I ranked among the top three = game's worst."
Westlake included a picture with an unforgettable notation. Being dubbed a "prime time dude" by a 1950s slugger is an honor I never would have imagined in Little League. I shall do my best to live up to the title, fellow dudes.
What's the best autograph inscription you've ever gotten?