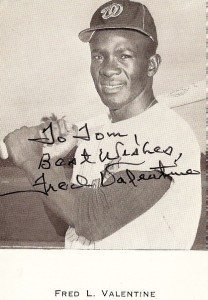 I wanted to share another response from my rookie year of blogging. Fred is now 85. I'm sure his humility remains healthy. If the autograph hobby ever has a Hall of Fame, I'd put Mr. V in it.
*********
A shoulder injury convinced Tennessee A&I quarterback Fred Valentine to pursue baseball.
Did he ever!
He debuted with Baltimore at age 24 in 1959. The speedy outfielder's "cup of coffee" wasn't served again for nearly four years. Valentine returned to Baltimore in 1963, but wouldn't get the chance at a starting right field job until 1966. His ultimate year came as a Washington Senator, tallying 16 homers, 59 RBI, a .276 average and 22 steals.
How did he battle back from the minors? How does he view his job battle in Baltimore?
Valentine wrote:
"1. The period 1959-63, I had prayer, guts and determination. I felt I had the tools to play in the majors and I realized I had to wait my turn and opportunity. During those years there were many good ball players and few teams. I always believed in practice and good conditioning.

2. Baltimore gave me opportunity to go into pro baseball. The Orioles changed as the league changed. They always had a good farm system.

I felt Earl Weaver (a rookie skipper during Valentine's last season)was always a good manager. He stood for perfection and supported his players."
Even though Valentine's Day is past, I'm glad Fred had his day. He earned it.