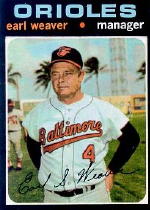 He looked too dignified
to be a professional
wrestling manager…
but he would've been
GREAT!
I'm glad I wrote to Earl Weaver when I had a chance.
I never asked for an autograph. I had something to give him.
The last game I ever saw at Minnesota's Metropolitan Stadium was an Orioles-Twins affair. I don't have the date or the final score right now.
No stat could compare to the image. I sat on the 3rd base side. I loved going to a game before the game. I loved watching players be boys. That's when they have the most fun.
Well, manager Weaver was walking across the field, chatting up an attentive Lee May. The skipper threw back his head and laughed. May smiled and nodded, hanging on every word.
"Weaver…you son of a bitch!"
Ever hear all the wind sucked out of a place with one collective gasp? It wasn't me shouting. Some rabid Twins fan wanted to be heard.
Weaver heard. He scanned the stands. May spread his huge arms, ready for battle. He took one purposeful stride toward my section.
I never spotted the screamer. But I swear I can hear the SQUEAK followed by the sound of running.
"The Duke of Earl" grabbed May's elbow. He looked at his manager, who burst out laughing. They continued to the dugout, unphased by the muttering buzz from the stands.
Did the O's like Weaver? I sent him proof. I saw one who would have committed a crime for him!