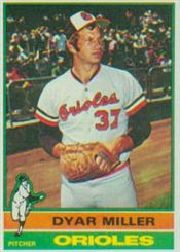 Dyar Miller threw me an off-speed pitch in his kind reply. He answered questions. However, I'm still scratching my head over his first reply. Miller came up with the Orioles. What did he learn under manager Earl Weaver that's helped him through his years as a pitching coach?
"Never hold a grudge."

Hmmm…
I liked his recollection of making the most of his first National League at-bat, following years of sitting for designated hitters.
"First time I took a swing, I lined a fastball past Burt Hooton. When I got to first, Steve Garvey said, 'That was a nice swing!'"
Does Miller have a prize pupil from his year as a minor league instructor/coach? How does he convince young pitchers who've succeeded for years in high school and college to try his ideas? He wrote:
"I tried to help all of the pitchers I worked with. Sometimes, a good pitcher needs to fail before they improve."
Miller's conclusion sticks with me.
"Thanks for your interest in baseball. I have enjoyed all 43 years of it."

The way I read this, I just enjoyed a letter not from a former player or current coach, but a fellow fan.
Readers: any guesses how Miller, manager Earl Weaver and holding a grudge fit together?