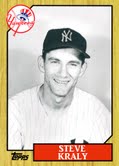 A custom card is ART.
The featured player
should be honored,
not suspicious.
Explain that in
your letter!
Bob Uecker is the latest.
Even former players are concerned about autographing only "MLB authorized" photos. They want to see that hologram, in the sweet hope that the player's association is getting some money (that we, the collectors, forked out).
The attitude goes to the extreme shown by Wally Moon, quoted by a collector as replying that he wouldn't sign "pirated" photos.
To their defense, current and former players seem to believe they'll help their brethren by only signing the blessed photos. There's the assumption that you'll be running straight to eBay and getting rich with your new autograph, so the baseball family wants its profits first.
How can you win against such bias? Try writing:
1. "I made this myself, for myself!" It's harder to turn down Mom's home cooking, as opposed to something that came out of a box.
2. WHY them? For example, Bill Kearns makes custom cards of Maine natives. Stress that this person is special, not just another baseball player.
3. "It's one of a kind." See that the potential signer knows this isn't something you're going to churn out by the hundreds.
There's no guarantees. However, even with a refusal, you struck out only after you went down swinging.