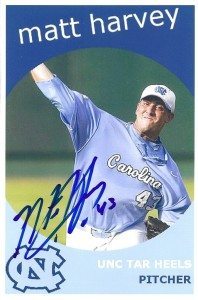 One sweet custom card, created by
Tim Virgilio!

"Who do you know?"
It's not a question I ask of collectors to see who has rubbed elbows with greatness. I want to find like-minded hobbyists who'll bring their brands of inspiration to this blog.
I offered this question to collector Bill Kearns. He nominated fellow fan Tim Virgilio. Here is Tim's story:
"I grew up a baseball fan and my father was born and raised in The Bronx. He grew up watching and rooting for all of the great Yankees (Mantle, Berra, Ford, etc.). Baseball was what really brought my father and I closer when I was younger. One day, while watching a game, my father tells me about when he was about my age (14 at the time) and how he would cut out photos of the Yankee players and send a letter to them at the Stadium requesting an autograph. This led to my first request for an autograph through the mail. Ever since that time, I've been hooked on the hobby.
With over 20 years of collecting autographs, both in person and through the mail, I have acquired quite a number of memorable autographs. When I first started collecting, my focus was to obtain all of the "big names". Over the years, my focus has changed. Since I am a fan of the New York Mets, I have been focusing on an all-time collection of Mets. This has been a great project since there are players who played briefly with the Mets and those that spent their entire career with the Mets. For this project, I try to get the players to sign a card or photo of the player in a Mets' uniform. Sometimes it is difficult to find, so I have gotten custom 4×6 photos signed.
Many times, I will receive nice notes back from the player or a family member telling me about their time with the Mets and asking for additional copies of the photos for themselves, their children, their grandchildren, or others. One very touching note that I received was from a wife of a former player. She had written about how her husband was very bitter about how his baseball career had ended that he had gotten rid of most of his baseball related items. It was only recently that he has regretted that and has started to try to rebuild his personal collection. She stated that he was touched by the custom photos that I had done and was wondering if I would be willing to send more for him. It was a great honor to be asked for such a thing that I did several custom photos of him in the uniforms of the teams that he played for and sent them to him.
Another collection that I have started is my all-time UNC baseball/football/basketball collection. This has been a fun project as it allows me to learn more about the history of UNC sports and many of the great players that have played for UNC. Those players that respond back with memories of their time at UNC often talk very fondly about their time in Chapel Hill, as if it were some very magical place for them.
However, I think that the greatest thing about this hobby is the friendships that I have made. I have several collectors around the country that I do not trade with but send gifts to. Basically, we help each other with our collections by sharing the extras that we have without the expectation of receiving anything in return except a thank you. This has been great because it allows each of us to add to our collections some players that we would otherwise have a very difficult time obtaining. I continue to have a great deal of fun with this hobby and plan to continue it for as long as I can.
Another thing about my early beginnings of TTM requests: When I would get returns from players, especially older players that I didn't see play but my father did, we would open the return mail together and then spend hours talking about the players and what my father remembered about them. Even now, when he comes to visit, he will ask what players I heard back from and we will talk baseball for hours. It is really a great experience for both of us and really continues to bring us closer."
Thanks, Tim. Meanwhile, find someone to share some baseball with!