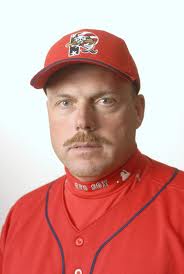 The 'stache is coming!
As a fan, I've always hoped that a coach would lead by example.
When I saw the new coaching staff for the 2013 Red Sox, I sought out Bill Kearns for a bit of insight.
The talented Maine 'grapher had seen then-manager Arnie Beyeler in action with fans and collectors for four seasons. Any predictions how he might behave in Boston as first base coach?
Thanks to Bill, who replied:
"Only IP, mostly because he was here and before he got here, I hadn't started the Minor League Coaches and Managers set I do every year.
With Torrey Lovullo, Brain Butterfield (Maine Born) they should all be attainable. I would suggest ST, the people that handle the mail in Boston have developed a huge black hole for mail."
In other words, have hope but act early!
Kudos to Christopher "Smitty on Baseball" Smith for a fine detailing of Boston's 2013 coaching roster, found here:
Coming Wednesday — Missing out on Freddy Schmidt.