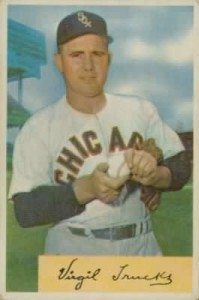 "Fire" inspired new ideas
for a fan letter appeal.
I think I've connected the dots.
My wife just began her 35th year of piano teaching this year. She was honored with a lovely feature in a monthly local magazine.
Everyone who knew her provided their copy. "I thought you might like an extra one of these to share."
Rewinding my memory, I recalled a telephone conversation last year with Virgil "Fire" Trucks. I had asked about the typical letter he gets from fans and collectors.
"They try to tell me about parts of my career. They've looked it up. They may think I don't know, but I know."
I'm going to try the same.
No, not articles about my favorite piano teacher. I will see if the retired player I'm writing to has been featured in print (or online) in the last month. I'm guessing that most former athletes in their 50s or up aren't surfing the 'net to see their headlines.
However, that doesn't mean they don't care. I'll print off the first page, then say, "If you haven't seen the whole thing and are interested, let me know. I'll send you the rest."
Another guess? They may write back, only because their wife/kids/grandkids/etc. would like to see it.
My wife has a collection of the same clipping about her career milestone. She'll love sharing every copy, knowing that the clipping came from someone who cared. Chances are, the person you're writing for an autograph will do the same.
Coming Friday: Collector Bill Kearns shares his hobby.