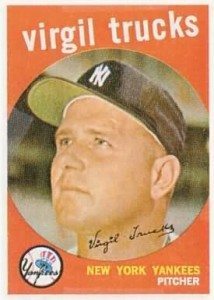 The WWII vet is still looking up!

He served the U.S. Army in World War II.
He threw two no-hitters.
He honored fans and collectors with untold autographs for more than a half-century.
Virgil Trucks is a hero on so many fronts. That's why this last curtain call must be so hard.
The fabled hurler suffered a broken leg this year. Sadly, his time away from signing is becoming permanent. The update is from daughter Carolyn Beckwith:
"I had a long visit with Dad on Monday. He was sleeping in his recliner when I got there. He looked good and said he felt pretty good. We talked about fan mail and autographs. He has carpel tunnel in both hands and his fingers don't have feeling in them. He has been dealing with this for quite some time. It has gotten to the point now it is hard for him to hold a pen in his hand. His autograph is not good and he feels it is time for him to end what has brought him a tremendous amount of joy, hearing from his fans.
His greatest wish has always been to be inducted into Cooperstown. He asked me to tell you, if the fans want to send a letter to Bud Selig, he would appreciate that so much.
Thank you Tom and please thank all of the fans for the cards and concern for my Dad.
Sincerely,
Carolyn"
Please, no more autograph requests to his Alabama home. The family has been RTS-ing mail since the injury. For those of us who received signatures, letters and encouragement from Mr. Trucks, we are grateful.