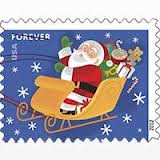 It's time to think about holiday gift giving.
Don't forget the person who keeps your hobby thriving: the mail carrier.
I checked with my local postmaster. Postal regulations limit carriers to accepting gifts (cash or equivalent) of no more than $20.
"What? Tip the postman? I spend a ton on postage."
Gifts come in all forms. Do you know your carrier's name? Have you ever gotten to thank them personally?
When I spoke to the postmaster, I said how happy I was with Angela. She treats our mail like it's her own. She's that careful.
Go to usps.gov. Fill out the consumer response form. Your appreciation will make a difference for your carrier, and your collection, in 2013.
Coming Friday: A way to thank Virgil Trucks!