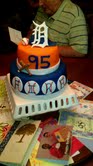 Mister T loving
the cards at his
birthday party.
Let's do it again!
Do you have room for one more name on your Christmas card list? Do you have an extra thank-you card needing a home?
Thanks to the reader who mentioned the sad irony of having all of Virgil Trucks' mail RTS-ed. There seemed to be no way to mail a note of gratitude to one of the game's greatest ambassors.
I pointed this out to Virgil's daughter. She replied:
Tom,

I think that would be wonderful. I know he read every get well card and was so blessed by them.
Thank you on behalf of my Dad too.
Carolyn
Here's our chance to fire up "Fire" one last time. Please, do not ask for an autograph. No SASEs. If you're wanting a chance to be thankful before Thanksgiving, here it is.
Mr. Virgil Trucks
c/o Carolyn Beckwith
55 Salser Lane
Columbiana, AL 35051
Thank you, everyone. Meanwhile, check out the heroic effort by James Webb. Yea! Add your name and your support to this
online petition
.