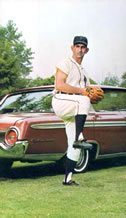 I loved Rich Klein's recent "Ramblings" column on the so-fun Sports Card Daily site.
"What should I ask about in a letter?" is a common question.
Even the smallest career (or non-career) may have been depicted on at least one baseball card.
Retired players may not have great insights about teammates or opponents. However, I'm guessing they won't forget the details surrounding one of their few card appearances.
Former Twin Jerry Terrell, more than three decades prior, loved looking at his SSPC cards. He rolled his eyes, laughed and told me that the sweaty-faced photo was from a hot Florida spring training afternoon, right after running wind sprints. 
Where was the photo taken? When (early spring training or regular season)? Who suggested the pose (player or photographer)?
The only thing better than an autographed card is one that comes with a bonus history.