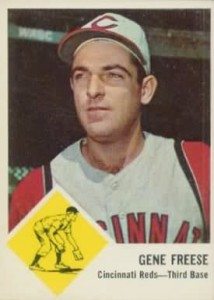 How much did Fleer pay
players for appearing in
their 1960s sets? In 1963,
the card came with a cookie.
Were players paid in
baked goods?!?
Thanks to Ron Martin for sharing some sad news:
"I guess that you have heard that a true friend to the hobby of TTM collecting has departed. Gene Freese a member of the 1961 Ragamuffin Reds passed away last week evidently from complications due to back surgery. I know that I had gotten several items signed by him through the years including the photo of Pete Rose coming out of the dugout for his first game in the major leagues. Rose, Frank Robinson, Cardenas, and Tommy Harper who you cannot see in that photo are the only surviving members in that photo. Where has time gone?"
Mr. Freese (yes, I watched Batman…) died at age 79.
Anyone who played more than a decade in the pre-expansion 1950s and 60s had my admiration.
Most of all, I admired Freese's ironman ethic serving the hobby. The sterling website
www.sportscollectors.net
credited him for signing 183 of 185 requests.
Sadly, I missed out on him. Examples of his signature were superbly detailed. No G— F—–.
One collector shared on the SCN site that he tried to send Freese $5. The veteran returned the cash with the requested autograph, along with an note claiming that the fiver was half of the signing bonus he received in 1953!
The roster of available signers from the 1950s and 60s is shrinking. Get these hobby heroes like Gene Freese as fast as you can.