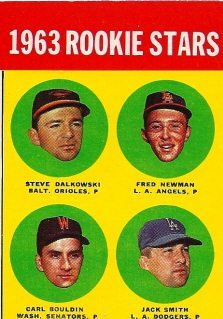 How Does It Feel To
Be a Floating Head?
Plus, How Do You
NOT Autograph Your Face?
Carl Bouldin just wanted to play. Play what, though?
Bouldin started for the University of Cincinnati Wildcats basketball team. After the 1961 National Championship, he surprised hoops fans by choosing baseball. He advanced to the majors quickly. The glory was short-lived, enduring consecutive cellar-dwelling seasons for the Washington Senators.
Why?
"I had offers to play basketball for three teams in the following three years, but I just thought my chances of a longer career was in baseball. It turned out to be not so long though, because I hurt my arm (rotator cuff) in winter ball in Puerto Rico. I was on the same team with Tommy John there."
Did Bouldin get a taste of quaint Griffith Stadium? He recalled:
"When I was called up in 1961, I went to Griffith Stadium. I didn't pitch there, because they moved to D.C. Stadium shortly after I got there. The stadium was cool. But my memories of the players that I had read about are/were more clear."
Just across the river from Cincy, boyhood home of the hurler, the Kentucky Baseball blog had some nice things to remember about Bouldin.
Tomorrow: Bouldin reveals his best game ever.