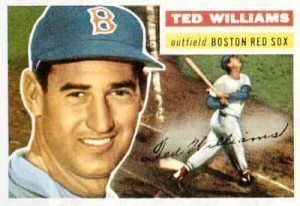 As I revised my "autograph collecting" goals one year ago, I thought about The Williams Shift.
Starting with the Cleveland Indians and player-manager Lou Boudreau, fielders bunched to the right side of the diamond for the king of pull hitters. Foes offered Ted Williams a tempting consolation prize. Plunk a single down the third base line. Lay down a bunt. Give up your power and get a base.
I don't have a 100 percent success rate asking questions by mail. I guess that in the past year I've struck a nerve with a few retirees. I've asked a few hard questions about their frustrations, even their failures. Sometimes, I think ex-players choose the recycling bin instead of reliving what might not be a rosy memory. Possibly, they aren't willing to relive any of their career, beyond looking at cards of their younger selves.
When I read about successes posted on http://www.sportscollectors.net/, I've been taken down a notch to see that some retirees who've sidestepped answering my questions are returning autographed cards elsewhere in two weeks or less. That could be me, too. If I'd change my game plan.
But "The Splendid Splinter" wasn't always that. He struck out 709 times. Likewise, I'll keep swinging for the fences. Every letter mailed may not produce baseball gold. That's okay. I'm ready for more one or two-page replies. I'm finding baseball storytellers who'll turn back time for me. They do more than answer trivia questions. They describe what it felt like to be a major leaguer, painting pictures with words.
If you see me wearing one of those rubber bracelets, my abbreviation would read: WWTWD.