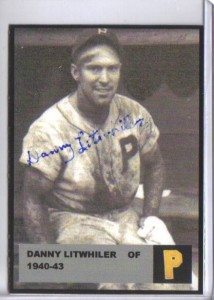 Stan Price's Tribute to
The Man Who Came to Play
There's a new movement in autograph collecting. Instead of fretting about how there's nothing new to collect, these trend-setters are making their own collectibles. Some are creating cards they design themselves. Others are devising their own photo collages.
One of these leaders is Stan Price. I'm grateful to this Phillies collecting machine, who took time out from the hobby to share some experiences.
Q: Of your 1,200 different, when and where did you get the idea? These are blank backed and card sized, I'm guessing?
A: The cards are indeed blank backed and card sized. I began collecting near 1989 when the Scranton Wilkes Barre Red Barons came into existence. I was getting autographs on logo balls but I found out the hard way that the autographs would fade with time. So I brainstormed and came up with a 3.5″ x 5″ photo of an actual baseball. They were inexpensive and portable.
My next lesson was to ID the autographs because some are hard to identify. I began putting the signed "baseball" with a photo of the player. The next logical step was to produce a card of the players and I said "What the heck, make one for each player who has every played for the Phillies and get as many signed as I can."
Q: I know little about computers. How hard has it been finding the skills (Photoshop?) to do this?
A: I use Microsoft Word for making the cards since the design is rather basic. Since it's an ongoing set, I don't want to change up the design on a yearly basis. Once I have a photo, I can make a card in 2-3 minutes.
Q: Where are you finding images of these cup-of-coffee Phillies?
A: That's a fun and challenging part of the hobby. Team publications, of course, pictorial baseball histories, internet surfing and the good old library.
Q: Had you collected autographs TTM before making your customs? Do you get other cards signed, too? How has the response differed since you've started including a custom?
A: Like I stated before, I had a ton of logo baseballs and some odds and ends. But I never really collected cards. A lot of the players especially the retired ones often comment on the idea.
Q: Can you site a specific former player who has given great feedback, or asked for extra customs to share? I know some guys in years past write and say, "Sorry. I have no photos."
A: I can think of two ex-players who seemed the most impressed:
Ron Diorio, who asked for some extras as did Rich Barry, who never had a card produced for him. He wanted to show his family how handsome he was as a young man.
Q: Please, would you share a peek at one of your customs?
A: I've attached my favorite card. Danny Litwhiler who looks like he came to play that day.
I hope everyone receives as much enjoyment as I do with their collections. I would also thank the membership of www.sportscollectors.net in helping obtain some autographs as well.

Stan has welcomed questions and comments from other Phillies collectors or hobbyists who'd like to create their own custom "cards." E-mail Stan at pm18231@yahoo.com