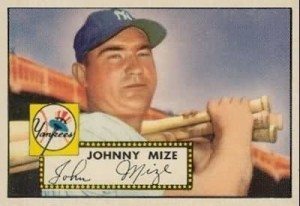 "This is for you." — Johnny Mize

Imagine a baseball Hall of Famer sauntering through an airport concourse or hotel lobby. He's friendly. Not just when someone recognizes him and asks for an autograph.
He greets strangers. Then, he opens his sport coat. From the breast pocket, he produces a Perez-Steele postcard, a Hall of Fame plaque postcard, or a vintage Topps card.
For uniformed military personnel, he adds: "Thank you for your service."
This wasn't a rumor. This was the life of Johnny Mize.
During my brief tenure as co-editor of Sports Collectors Digest, I represented the magazine at an Iowa card show. When the show organizer came up short on tables, he asked if I'd be willing to sit at the autograph table.
Was that okay with me? Uh…YES!
When a child in a wheelchair approached the table, having just an index card, Mize said, "Just a minute."
He slowly, gently lowered himself (on two new surgically-repaired knees) to be at eye level with the young fan. "I want you to have this." Out came a 1952 Topps card. The real thing from the real "Big Cat."
He seemed a bit embarrassed when he returned to his seat and my jaw still hung wide.
"Sometimes, someone sends me an extra. I share them."
He said he liked to seek out "special" children or men and women in uniform. "I know what that's like," he said of his World War II service.
Mize felt a sacred obligation more than three decades after leaving the field. The public counted. Every collector mattered.
"I did one of these shows with Lenny Dykstra," he said. "Do you know who he is?"
I nodded slowly for the possible bombshell. It came.
"He showed up in a jogging suit wearing headphones. He wouldn't talk with the people.
In my day, he couldn't carry my jockey strap."
Sorry, "Nails." That's how he felt. That's what he SAID.
I was saddened that more people didn't bother to spend a moment with Mize. The show was lightly attended. He would have talked to anyone, not just holders of autograph tickets. I believe collectors thought he'd be at more hobby shows in the future. They had gotten his signature before. He was easy to get by mail. Mize had started asking for a small donation for his local Georgia boy scout troop. (Previously, the boys had to sell Vidalia onions door-to-door to raise money for community projects, he explained.)
Still, he was a bargain. To the end, he could produce a signature that matched his 1952 Topps to the letter. I saw him do it again and again.
Everyone got a small, sincere smile and a noble nod with their autograph.
That's why I write to so many names from baseball's past. I know that, behind every signature, is a story.
Tomorrow: the story of Stan Price and his amazing Phillies "custom" collection.