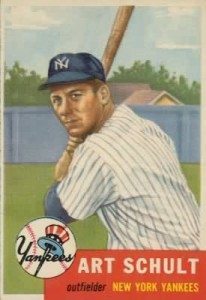 "The only picture they had…"
Art Schult got only the briefest chance to catch on with the 1953 Yankees.
In his "cup of coffee" with manager Casey Stengel, does Schult have a memory of the Hall of Famer?
Yes, but…
"RE Stengel – I was never very diplomatic and I really do not want to try at this late date."
Schult accepted the nickname "Dutch," although some mystery surrounds the title:
"I believe one of my buddies gave me the nickname 'Dutch' when I stole a couple of bases and it stuck for awhile."
Most incredible is Schult's recognition of his 1953 Topps card. Some collectors have guessed that Topps painters inserted random backgrounds on some cards. I thought Schult's card looked like my backyard!
Not so.
"My contract was brought up to New York at the end of the 1950 season. I was drafted into the Service roughly the same time. The only picture they had was taken in Binghamton, New York, with the center field wall in the background.

I had the pinstripes on but the cap had TC (Triple City logo) and the number on the uniform was #6 which couldn't be shown. That is why they doctored the card."
Tomorrow: Remembering my conversation with Hall of Famer Johnny Mize.