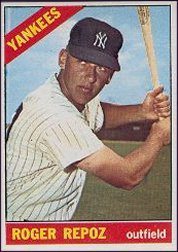 Not Mantle.
Not Murcer.
Still grateful.
Outfielder Roger Repoz did his best to ignore the New York media. However, he couldn't help but be thunderstruck by his new place of employment in 1964.
Did he remember his Yankee Stadium arrival? His letter confirmed that the impression still remains:
"I remember walking out on the field like it was yesterday. The facade hung out over the field.

It was like being in a canyon."
Repoz couldn't just be another outfield prospect. For New York scribes, he had to be a future Mickey Mantle. Who could survive such high expectations. He explained:
"I tried not to notice because there wasn't going to be another Mantle. He was so good!"
Repoz flashed occasional Mantle-like power in his career. Two homers and six RBI versus the 1968 Tigers in one game. A 1971 grand slam against the mighty Orioles. Neither power display tops his list, though.
"My first major league hit was a home run off Steve Barber. I still have the ball."
And http://www.retrosheet.org/ has the memory. Flash back to July, 1, 1965.
Tomorrow: one of the 1953 Yankees explains his Topps card of that year, then ponders Casey Stengel.