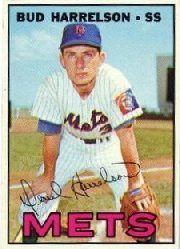 Good luck finding
a 'Derrel' autograph
today!
Did Bud Harrelson want to play for the San Francisco Giants? I quoted to him from The Ballplayers, a 1990 reference book.
"Harrelson grew up in California wanting to play for the Giants, who rejected him as too small."
This was repeated in a thorough SABR biography.
I asked for details. Who did the rejecting? How? His reply was fascinating:
"The Giants never scouted me. I always wanted the Mets."
The Ballplayers did point out one epic week in Harrelson's career. In the same week in late 1966, he secured Met wins against the Giants and Pirates with dramatic steals of home. The losses dashed pennant hopes for both clubs.
Why don't we see more steals of home today?
"The old-time pitchers had a longer wind-up."
Harrelson learned to switch-hit after struggling to hit his weight in 1965.
"Casey Stengel encouraged me. I wanted to play every day, right and left."
I enjoyed discovering the Ultimate Mets Database entry for Harrelson. Be sure to check out the fan memories section, too.
Tomorrow: Revisit Yankee Stadium, circa 1964, with Roger Repoz