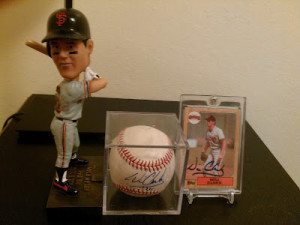 Behind these autographs are great memories.
(Photo courtesy of Roger "Super RC" Chen)
If you liked him on Youtube, you'll love him here.
I can't say it often enough. I want the word MEMORY in all my memorabilia.
Roger Chen gets that. He tells about his face-to-face encounter with Will Clark in the debut of his new blog "Golden Gate Graphing."
Check out his uplifting tale. I'm hoping he shares many more.
Coming Friday: Legendary pitcher and personality Steve Dalkowski's untold story.