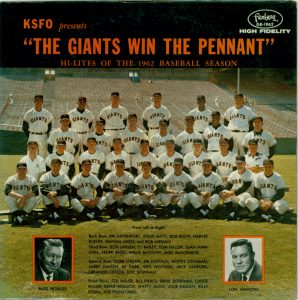 Gone are the days of season highlights LPs. The awesome
website http://www.bayarearadio.org/ preserved this one.
To learn more about the two Giants broadcast icons,
start with this sensational site, part of the
California Historical Radio Society!
Lon Simmons not only announced the first-ever San Francisco Giants game, he did it with a legendary voice at his side.
Russ Hodges is remembered for shouting "The Giants Win The Pennant!" after Bobby Thomson's 1951 miracle home run. It seems we should be remembering Mr. Hodges for a whole lot more.
Simmons recalled:
"I was blessed to work with Russ Hodges on the Giants broadcasts from the start in 1958 until he passed in 1972.

He was a great broadcaster and a wonderful friend. Destiny was very special to bring him and major league baseball into my life.

A true story of generosity by a fellow announcer came on my birthday in 1960, when Russ gave me the chance to finish the broadcast as Juan Marichal flirted with a no-hitter in his first major league start. Unfortunately, Clay Dalrymple got a pinch-hit single for the only hit.

Russ said he wanted me to get a chance to announce my first no-hitter and that was his birthday gift to me. No other announcer would ever do that, but it is something I have always remembered and during my later years, was able to give some younger announcers and equal opportunity."

Coming Monday: Lon Simmons shatters a Wikipedia myth.