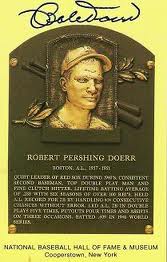 Doerr added this postcard often as a free bonus
into many of his replies.
An amazing man!
To celebrate Boston's World Series win (and my return to Blogville), I wanted to share a 2011 post. The late second baseman gave stunning reasons why he never stopped signing by-mail requests. Let's hope his same devotion to fans and The Game rubs off on the 2018 World Champions.
And now, it's flashback time!
My admiration for Bob Doerr grows every year.
A Hall of Famer since 1986, he should be a charter member of any Autograph Hall of Fame.
While some mortals complain about trying to send Christmas cards to two dozen people, this 93-year-old baseball icon signs thousands of autographs a year. He keeps thousands of letters a year straight. Sign the ball here. Add your Hall of Fame year. All those requests for inscriptions, pens, whatever. Doerr delivers!
Thankfully, the "Silent Captain" was anything but when I asked him about his feelings about autographs. He replied on his official stationery, complete with the HOF logo and BOB DOERR as letterhead.
Q: How many autograph requests come in the mail weekly? How do you manage?
A: I average between 50 and 100 requests per week. Some days there are 30 or more requests and some days there are only 1 or 2. Very rarely are there days when there aren't any. I do have a person who regularly helps me with the mail. Two people when I split my time between here and the Rogue. I also have family and friends that fill in from time to time.
Q: You've never stopped signing. Other Hall of Famers demand a fee. Or, they just ignore fan mail. Why are you different?
A: I have always enjoyed the fans. Their support and encouragement is inspiring. I also feel that we as players are honor-bound to respond to them. After all, they are the reason we are able to get paid for playing the sport we love.
Q: How can collectors show their thanks? Is there a charity you support that we could help with?
A: As to showing your thanks, I guess the best way to do that is to educate other collectors on good 'request etiquette.' So many either send way too much (I try to limit it to about 4) or they don't send proper postage (etc.) or both.
I hope these answers are helpful to you. Thank you for your interest in time.
The letter is signed "Bob Doerr," with that careful penmanship.
I could read Doerr's words all day:
Fans…inspiring…players…honor-bound…the sport we love.
This man's autograph isn't signed with ink. Doerr's pen is filled with gratitude.
*************************************************
I've never asked before. But now, I'm asking for Bob Doerr.
Doerr never wrote, "Send me money." He never even asked for any of us to donate to charity.
All he wants is more collectors to learn and respect "request etiquette."
Share this post. Tweet. Use any social media. Spread the Hall of Famer's hope.
I thank you. I know that this throwback hero would, too.