The Hall of Fame has another mess to clean up.
Ron Santo was just one example. Marvin Miller led the Major League Baseball Players Association. For better or for worse, he helped pioneer free agency. Another worthy, overlooked part of baseball history.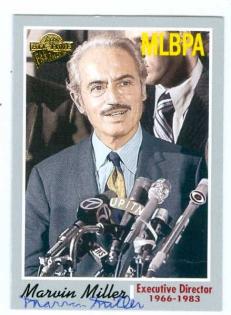 From eBay: small sigs
were vintage Miller!
Inducting someone after their death has happened before.
Miller may have peeved as many collectors as owners in his lifetime. His final stats on www.sportscollectors.net say that he responded 126 times to 174 recorded TTM attempts.
I found the non-player in just two card sets: a 1994 Upper Deck issue and the 2005 Topps All-Time Fan Favorites set.
Miller's eyesight may have been failing for years, judging by his microscopic signatures.
In his defense, neither card offered a great space for an autograph.
I think he became irritated with the cumbersome nature of signing his book and baseballs. I believe that the final collectors who succeeded with Miller were ones who proved they were sincere, educated fans.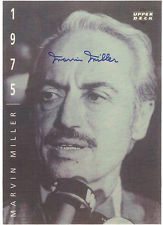 Another eBay example:
face-signed cards?
Look hard for other baseball pioneers. Find them before Cooperstown, or the Grim Reaper, calls.
Team owners
umpires
general managers
scouts
Readers: are other non-players Hall of Fame material, ready for autograph collections?
Coming Wednesday: Arizona Fall League insights from The Autograph Card