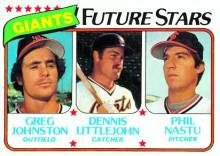 Nastu has been a faithful
autograph signer for 30-plus years!
Remember Mike "Tiger Nut" Micho? He's shining the spotlight on one of the greatest responses I've ever imagined recorded by a collector.
As first shared on http://www.sportscollectors.net/, Mike relayed this fascinating story:
"Earlier this month I sent 2 cards to former Giants pitcher Phil Nastu. After nearly a month, I wondered if I`d get them back again, as usually he signs and returns cards quickly.Well, what I received back in the mail yesterday just floored me.
It seems Mr. Nastu had signed the cards quickly and had sent them back out a few weeks ago. However, the Postal Service had totally destroyed the envelope (it was ripped in half) and the cards.This pile of waste was returned to Mr. Nastu as he had placed a return address sticker on the envelope.What he did for me was unbelievable!
I received this huge white envelope in the mail yesterday, addressed from him.When I opened it, he had wrote me a short note explaining what happened. It read:
'Michael, I received these cards I signed for you back from the Post Office. They were destroyed, so I replaced them for you. I searched the web for your correct name and address from the letter you sent me. Hopefully, I`ve sent these to the right person, since I couldn`t read the full name. If not, I tried my best. Phil'
I was shocked that he cared enough to replace the cards, search the web for my name and addy, and send everything back to me (including the destroyed cards and envelope).
He is for sure going to receive a Thank You card from me for this one! Thanks so much Mr. Nastu."
I wrote a note of thanks to Phil Nastu, too. Hey, everyone should. When one collector wins, the hobby wins. Amazingly, I found that Mike's story had another side…
Coming Friday: Phil Nastu replies, explaining his amazing kindness.