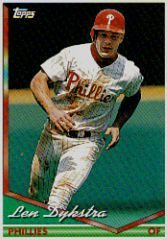 Go, Mitch Williams!
These verbal smackdowns versus Lenny Dykstra give me hope the former pitcher might loosen up this year on FOX Game of the Week. 
I don't think Williams is the first to tee off on Dykstra. I wrote years ago about spending an afternoon with Hall of Famer Johnny Mize at an autograph show. 
He was peeved at Dykstra's behavior toward fans when they headlined the same event.
I'll never forget "The Big Cat" launching a one-sentence dismissal, putting the hammer to "Nails."
For those of you who missed it the first time, enjoy Mize at his best here: