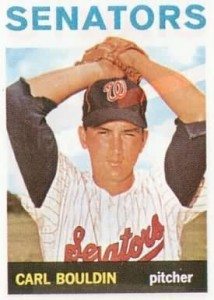 Beloved in Venezuela!
Here's a quick tip for anyone wanting to correspond with former players:
Realize that there's more than one way to judge a career highlight.
I thought Carl Bouldin would have some nice memories about Sept., 15, 1962, when he twirled a 7-hit win at home versus the White Sox. (Thank you, http://www.retrosheet.org/.) However, I never said "your best game ever seems like…" Instead, I asked about the day, then followed up with:
If this wasn't your best game ever, please describe what was?
Bouldin replied:
"Getting a complete game was big for me, or anyone, I think. I felt like I belonged and knew I could pitch in the 'bigs.'

My best game was probably in winter ball in Caracas, Venezuela. In a big city rivalry, I pitched against a team with the three Alou Brothers and won, 3-1. Pete Rose was on my team and after that game the fans carried me around on their shoulders.

A fun time."
Tomorrow: The Autograph Addict hits the jackpot with Cub Bob Will.