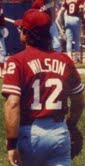 The book offers
another view
of Glenn Wilson.
(Courtesy Darrell Halk)
It began as an autograph request. The contact grew into a friendship and book collaboration.
Glenn Wilson has moved from a decade-long major league career to the ministry in Texas. In his forthcoming book Wilson tells of his baseball days, post-career challenges and his life-changing Christianity.
Co-author Halk, an avid collector, has served in student ministry for 14 years. He serves at Southmont Baptist Church in Denton, Texas. He offered some additional insights about Wilson and the book:
"I appreciate your interest in Glenn's book and your desire to help us spread the word. The book does discuss his view on autographing in person during his career. He discusses the joy he had in signing early in his career and how it became tedious after he had been in the league for a while. He also told me that part of his playing career that his brother signed all his mail.

Post career, I do not think it is an unwillingness on his part to sign through the mail, I actually met him through emailing him regarding the possiblility of sending him cards to sign and he was more than happy to do so and signed them for free. I think the hard part has been he has not had a consistent address in years. He has moved three times just since I met him back in 2008.

The address currently listed on www.sportscollectors.net is mine as I now accumulate his mail and then when I see him he signs it all and we send it back. The fee is in all honesty, an attempt to help him get back on his feet. Glenn has faced great financial strains (discussed in the book) and signing stuff and the private signings I have done with him have helped him.

All pre-orders will definitely be signed and those who buy one of the first 200 copies will be entered to win a game used powder blue Phillies jersey that Glenn will sign."
For more information about the book, check out Halk's website. Pre-ordered copies will be autographed by Wilson and Halk. He adds that the jersey drawing will be on the youtube channel, durkel777.
Coming Thursday: Ex-Tiger Nate Robertson's memory of Ernie Harwell.