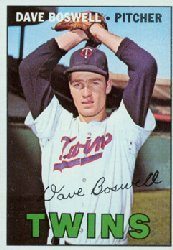 Today's Boswell's
autograph is tighter.
Minnesota Twins pitcher Dave Boswell could have been neither.
I asked him about joining the Twins, as well as his success at bat. He added a couple of startling tidbits concerning what might have been.
First, I asked how owner Calvin Griffith was upon signing his first contract.
"Tom, tell you what — I got $15,000 and a new car. It wasn't that hard getting it from Mr. Griffith.


Had the same offer from the Yankees."
I pointed out that the designated hitter rule wasn't suited for pitchers like Boswell. He had 74 career hits, four of them home runs! He replied:
"I signed as a pitcher and outfielder. Loved to play every day."

One explanation for Boswell's mound success, four straight years of double-digit wins (culminating in a 20-win season in 1969) could be Minnesota pitching coach Johnny Sain. How did Sain help?
"John was great at explaining situations to you. All of a sudden, you would find yourself in that position and you knew what to do."

Twins fans, send your thanks to this might-have-been Yankees outfielder now. My reply ended with…
"Been very ill lately. Sorry it took so long.
Dave Boswell"

Coming Thursday: My "10 Most Wanted List" — Phillies Edition.