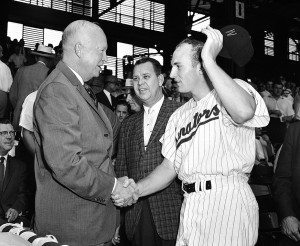 I'm agog over the
"Ghosts of D.C."
blog. I
found this classic 1959 image there of owner Griffith
hovering between President Eisenhower and
star Harmon Killebrew. Please, read their
great "what if?" essay speculating
on how the Twins could have
become the L.A. Dodgers! How would
Mr. Mitterwald have felt about that?
The ex-Twins catcher sounded so pleased to recall manager Billy Martin.
Then, I spoiled it all for George Mitterwald.
Did he have a memory of owner Calvin Griffith?
"Calvin was a one-owner owner and he liked to let everyone know it. We used to say he threw nickels around like they were manhole covers.
He tried to cut my salary my third year after raising my average 30 points and breaking the fielding record for catchers with a .997 average.
I ended up getting a $4,000 raise, but had to hold out for eight days to get it. He held it against me all the season and curbed my playing time.
I never had real problems with the Cubs."
Coming Thursday: George's best day ever?