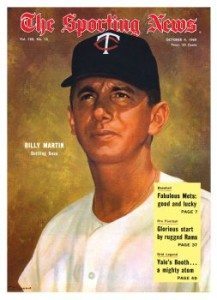 I miss the old "Baseball Bible."
The cover paintings were part of
that reverence. I never tried to
get a TSN autographed. I couldn't
bear seeing those covers bent in
the mail!

George Mitterwald hasn't forgotten manager Billy Martin. I asked for any memories of their brief time together in Minnesota. Mitterwald replied:
"Billy Martin was a great manager, whom I learned a lot of baseball from. His strategy and willingness to always push the envelope when it came to making the opposition try to stop us from taking extra bases, stopping us from stealing home, double stealing and taking the extra base almost all the time.
Off the field he was brash at times, generous all the time and just plain fun to be around all the time because of his comedic nature."
Coming Monday: Contrasting memories of owner Calvin Griffith.