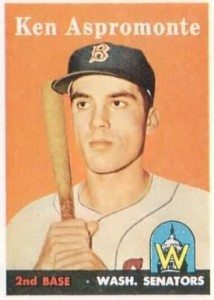 Ken Aspromonte enjoyed a magical time growing up as a ballplayer in Brooklyn.
Yes, his younger brother Bob made the majors, too.
But he crossed paths with three other guys who fulfilled the same dream.
"The Torre brothers (Frank and Joe) played against the Aspromonte brothers throughout the high school years and sandlot baseball," he wrote. "Sandy Koufax went to the same high school, Lafayette in Brooklyn, with my brother Bob and I. He played first base but eventually moved to pitching –"
Ken's career as a starter was brief. He did earn a full-time job in the 1960 Cleveland infield, batting a career-best .290. More time to make good wasn't the only explanation, he noted:
"Success comes in the major leagues when a baseball player finally realizes that he belongs in the majors. It takes lots of patience and finally if you have talent, it will all come about –"
Ken returned to Cleveland to manage in 1972. He led the team through one of the zaniest, scariest nights in baseball history: "10 Cent Beer Night" in 1974. When drunken "fans" wouldn't clear the field, the Indians forfeited.
When rowdy fans confronted Ranger Jeff Burroughs in the outfield, manager Billy Martin urged his team to grab bats and charge the field to defend a teammate. However, the Texas roster wasn't big enough to confront the mob.
That's when Ken Aspromonte sprang into action. He led his Indians onto the field to help defend the visiting team.
"It was a terrible unfortunate evening, something I knew was going to happen when you make beer available at such a LOW price," he recalled. "I definitely would do the same today if I was managing."
The world may offer 10-cent beers again someday. But there will never be another Ken Aspromonte.