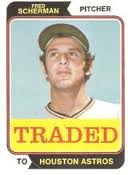 "Throw a spitball? Me?"
Pitcher Fred Scherman was a true team player.
He listened to his manager and did his best. No matter how bizarre the game turned.
Let's flash back to Aug. 30, 1973 in Detroit. Cleveland's Gaylord Perry is working on a six-hit shutout.
After the loss, Martin complains to the media that umpires refused to listen to complaints about Perry throwing illegal greaseballs. In retaliation, the fiery skipper claims that he ordered both starter Joe Coleman and reliever Scherman to throw spitters, too.
Really?!?
"Yes it was true and yes I did. I didn't know how to throw a spitball so I just spit on it and threw it."
A certain manager was dismissed by team officials three days after flashing such brazen honesty.
Scherman racked up a career-high 20 saves for the 1971 Tigers. As opposed to a win, how much did a save mean 30 years ago? How much did it bring in next season's contract?
"The 'save' got less respect. Our GM did not reward me well for my efforts."
Scherman rewarded me with his reflections on Sept. 17, 1971. He registered a six-hit win against the mighty Orioles. Did he want to be a starter after such success?
"That was a great day. Starting or relieving didn't matter, as long as I got to pitch."
Tomorrow: Eric Soderholm, in the shadow of Minnesota superstars.