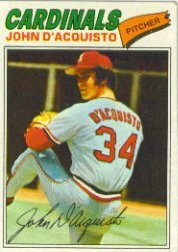 Love the pic:
"Spell my name? Here –
it's on the back!"
Pitcher John D'Acquisto did more than win a dozen games and a couple of awards in 1974. He achieved his own share of history while having a good bit of baseball fun.
Start with June 7, 1974. Whenever a pitcher blasts a homer, bet that there's a good story behind the four-bagger. With thanks to http://www.retrosheet.org/, heeeeeere's Johnny's!
"The game was tied in the 8th inning against the Pirates and bing crosby was in the stands because he owned a percentage of the Pirates.

Bruce Miller walked and Larry Demery had gone 0-2 on me in the count. I was looking for a fastball away and he threw me a fastball right down the middle.

I took a swing and my eyes lit up like a Christmas tree. I hit right on the sweet spot and ripped it into right center field, a line shot.

In fact I was running so hard because I thought it was a double. When I hit second base (coach) Joe Amalfitano had his hands up like to stop me. I stopped between second and third and he yelled at me to'"keep running. You hit a dinger! Enjoy it, son, enjoy it!'

I will never forget that, because it was the game-winning home run and boy, did I get the silent treatment from my teammates. It was hilarious…"
No less than historian Bill James salutes D'Acquisto's firepower. The pitcher quoted James, when asked how hard he threw:
"In any five-year period, there are 40 guys who are claimed by someone to be as fast as Walter Johnson, or as fast as Bob Feller, or as fast as Nolan Ryan, as fast as whomever the standard is at the moment. People made the same exact sort of comments about Pete Broberg that they did about David Clyde. We have the same kind of quotes about Gary Gentry, claiming he was faster than Seaver.

The fastest known [D'Acquisto bolded the words himself] radar reading from that era, other than Nolan Ryan, was for John D'Acquisto.' — The Mighty Fastball, by Bill James

I was clocked at 102.4 against the LA Dodgers, 5-28-74″
How would you look back on nearly a decade in the majors? This is how the veteran sees it:
"My career was a good career based that I was on teams that never really did well, yet I was able to put together some great years and made those teams competitive in their own right. It was an honor to be able to play Major League Baseball for as long as I did.

I have no regrets on my life after baseball. Things happen to good people and they change your perspective of life and trust of others. I learned from my mistakes, that is the key.

John D'Acquisto 1974
NL Rookie Pitcher of the Year TSN
NL Rookie of the Year TSN"

More great "Johnny D" memories were shared in this 2005 profile from J.D. Hawk.
Tomorrow: what would you do if manager Billy Martin ordered you to throw a spitball?