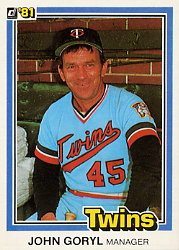 Want proof that Johnny Goryl was a team player? Ask him about hitting four homers in one week (July, 1963), commemorated by http://www.retrosheet.org/. Many players can recite their career stats by heart, including individual highlights.
Goryl, meanwhile, replies…
"I never knew I did that. I know that my best season in the M.L. was with the Twins."
Speaking of the Twins, Goryl served on the coaching staff of new manager Billy Martin. How was the fiery skipper as a boss?
"Billy M. was great to work for. He did a terrific job that season, taking us to the A.L. Division Playoffs, only to be swept by Baltimore. We lost the first two games by 1 run and then got beat badly in the 3rd game in the best of 5 series."
Goryl's closing paragraph impressed me most:
"I am going to enter my 60th year in professional baseball next season, an accomplishment I am very proud of. I have numerous wonderful memories over the years and have seen a lot of great players in that time. I feel privileged to have been able to be a small part of the game and to be on the field with so many great players.


Thanks for remembering me, Tom,


Johnny Goryl"
See Goryl discuss his career and the future Cleveland Indians in a 2009 video