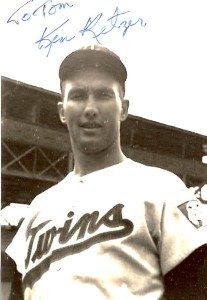 Many people catch the President, on TV, even at a rally.
Ken Retzer caught John F. Kennedy at a ballpark in 1963.
Retzer, starting catcher for the Washington Senators, received the 1963 season's ceremonial first pitch from JFK.
The Illinois-born receiver enjoyed another milestone that year. Behind the plate for baseball's 100,000th-ever game, Retzer handled the historic ball that would be displayed in Cooperstown's Hall of Fame.
I was fascinated to see Retzer's success in hitting knuckleballers like Hall of Famer Early Wynn. He wrote me:
"I was a line drive hitter,few strikeouts. Just 31 in 1961. So that helps to hit all pitchers. Knuckleballers were hard to catch, almost like catching a butterfly."
He seemed to wear a different uniform number yearly. Why?
"Any time I veteran player would join the team, I gave up my uniform. The last was #14 for Gil Hodges the manager."
Twins fans should know that Retzer played a role in the team's 1965 American League championship. When catchers Earl Battey and Jerry Zimmerman held out, owner Calvin Griffith called Retzer as a bargaining chip. Signing Retzer, who performed admirably throughout spring training, convinced the other two catchers to ink new contracts. Unfortunately, Retzer was cut a day before the season began.
Retzer deserved a World Series. He's a World Champion autograph signer, giving all-star treatment to every fan who writes. Ask any Senators fan.